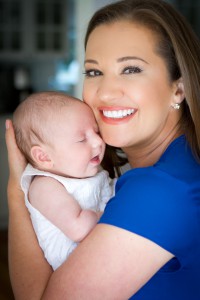 In a poorly-lit hallway, across from a couple of tripods and the graffiti-covered wall of the Las Vegas SLS hotel, a Certified Sleep Consultant was about to share the secrets to getting newborn babies to sleep. We were at the SLS for the welcome reception of the ABC Children's Expo, not to party. Still, I was a bit amazed that amid the cacophony, the sleep consultant's comments were remarkably composed, articulate and comprehensive, especially considering our surroundings. I'd expect that though—this sleep consultant was Jenni June, a well-known Certified Child Sleep Consultant, Certified Lactation Counselor, the mother of four kids, and an instructor of baby and toddler sleep classes across the US.
I also expected that I knew what she was about to say… I expected, "Put your baby down awake, from day one." I'd even planned a follow up question in response, when she said it.
But that's not at all what she said.
"The best thing you can do is to establish a really strong attachment," shared Jenni. She suggested that a strong attachment gives a foundation of trust. And that's a foundation, from which we can teach our children when they're ready.
I felt myself breathing a sigh of relief hearing that. Possibly my biggest takeaway from my Psychology classes was that the strength of attachment between an infant and their primary caregiver is so important to the child for the rest of their life—it affects their IQ, their social skills, and their ability to trust others. It's so nice when experts give consistent messages!
She adds that in the beginning, you want to establish positive breastfeeding behaviors and a milk supply. So you wouldn't want to put a newborn on any kind of schedule that might work against breastfeeding.
Likewise, a newborn doesn't have the ability to time the release of melatonin, the hormone that makes you tired. So they don't have the hormones or ability to follow a schedule anyway.
Instead, she encourages parents to just watch their baby's cues to figure out when the baby is tired. "Newborns don't sleep in an organized fashion," Jenni explains. "Their sleep is light, active and sporadic. And it's supposed to be that way."
So, good news—you don't have to worry about breaking any "rules". You can just focus loving and taking care of your little one.
Thank you to Jenni June for taking the time to share these helpful tips. If you enjoyed this article, please follow Mama Lovejoy on Facebook or @MamaLovejoy1 on Twitter, Instagram, Tumblr or Periscope, and share the info with your friends!