style="display:inline-block;width:728px;height:90px"
data-ad-client="ca-pub-2902699368607751″
data-ad-slot="6337356427″>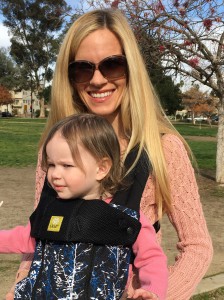 At a recent cocktail reception, a relaxed-looking mom chatted with a few other women, with her baby snuggled close to her chest in a carrier. The carrier was pretty and I didn't recognize it, so I asked the mom a couple of questions. It was a Lillebaby carrier, and the mom was really excited about it. She laughed—kind of bragging—mentioning that she was nursing right at that minute. Not only was she completely covered, but I couldn't even tell she was nursing! Then she mentioned that she could forward-face in the carrier too. Now I was really interested…
I hadn't appreciated how important a carrier would be, when I first had my daughter. A baby carrier frees up both of your hands, soothes a fussy baby (all the way to sleep, if you want), lets you get out and cover a lot of ground (even if your baby doesn't want to stay in a stroller), keeps the baby off the back of their head… I could go on-and-on. And, I wish I'd known sooner that I could also nurse discreetly in (some) carriers.
Starting at about 4-months-old, I used a Beco Gemini as my go-to carrier. I like that I can forward-face Savannah, so she can see what's going on… and so she stays engaged enough in her surroundings to stay in there, so I can go for long walks (e.g.: zoo) or clean the house or whatever. I also have an Ergo and more recently a Tula, which both face her toward me. Those are great when she's fussy (e.g.: right after a nap) or to rock her down in a real pinch. I never really found a carrier I loved for the newborn stage, though. And I've definitely had to have a few different carriers to serve different purposes. This carrier seemed like it may combine my favorite features of each of my favorite carriers, though.
Flash forward a few weeks, and my new LILLEbaby Carrier arrived.
I really love the carrier and wish I'd found it sooner! Here's the scoop, with pros and cons, in case you're interested.
I can still cross the straps behind my back, like I could with the Beco, which I especially like, so I can keep an arm around my daughter when putting it on.  I thought the lumbar support pad on the Lillebaby carrier was mostly for show, but holy cow, that thing works—my daughter is two now and she still wants to be held all the time… my poor back!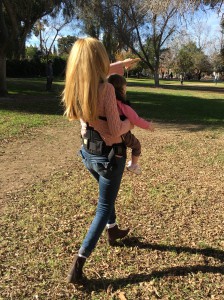 I also like that I can undo the buckles with one hand (Beco Gemini requires two hands). And the forward-facing option is critical for me in my go-to carrier, which this carrier seems to do comfortably (Savannah seems happy in there).
The one thing on my wish list is a quicker/easier ability to convert the carrier from facing me to forward-facing and vice versa—the belt feeds/unfeeds through a couple of loops in the fabric to add the extra-wide butt and leg support, so I have to put my daughter down and use two hands to change the direction she faces. Realistically though, I only ever convert the carrier so she can face me, for a few special situations.
One thing I'm really excited about—for our next kid (whenever that is)—is you can carry a newborn in the Lillebaby carrier (facing you like in an Ergo), but without an infant insert. It has a little belt inside of it (removable for older kids) to make sure the baby doesn't fall out. So you can still get the super-discreet nursing and super-snuggly position, but you don't have to jam an insert in there or risk the baby falling out.
There are a few other cool features, too. With the carrier I chose (the All Seasons Carrier), I can unzip the fabric to expose mesh, on hot days. It also has a pocket and a built-in hood/head cover (like the Ergo and Tula). And the print is so much prettier than my options with a recent carrier we bought. Let's just say that the yellow and grey giraffes on our most recent carrier purchase are "endearing" (the weird part is, I looked at other patterns for that carrier and there weren't really any better).
Anyway, enough on that. It's a beautiful day—we're going for a walk.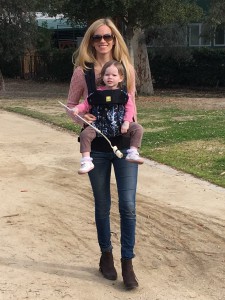 style="display:inline-block;width:320px;height:100px"
data-ad-client="ca-pub-2902699368607751″
data-ad-slot="8122997225″>

Thank you to Lillebaby for providing me with this LILLEbaby Complete All Seasons 6-in-1 Baby Carrier -Black w/Aspen Night

for this review… and for giving me the ability to go for walks in a carrier that's prettier, more comfortable and easier to use!


style="display:inline-block;width:320px;height:100px"
data-ad-client="ca-pub-2902699368607751″
data-ad-slot="8122997225″>