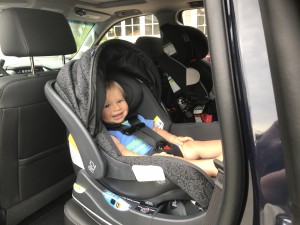 Twice in the past month, my husband and I arrived at two different BBQs with my 22-month-old daughter asleep in the backseat—which happens far too often and pretty much means the rest of the afternoon is wrecked. We arrived at the first BBQ, fifteen minutes into her car nap, and I tried to pick her up, hoping she'd sleep on me. Fail. She woke up and eventually threw a hysterical, over-tired tantrum… then, she fell asleep on the car ride home, leaving me stuck in the car for two hours until she woke up. At the second BBQ, we decided it was safer to just drive around with her for two hours, before going in (very late) to the BBQ.
This is what "transitioning to a convertible car seat" means to me (the above story was my life a couple of years ago).  It means I can no longer just snap the infant seat out of the car if the baby takes a car nap.  Plus, we don't just have the baby with us anymore… we also have a tantrum-prone threenager now, too.  So, if our baby falls asleep in a convertible seat while both kids are in the car… I'm pretty much envisioning the apocalypse.
So, yeah, when our pediatrician told us our little guy is now 31 inches tall (i.e.: he's outgrown his infant car seat), that was some tough news.
At first.
Here's the thing… At the JPMA expo, Chicco let me know that they now have a lightweight seat that snaps in and out of a base, designed to rear-face up to 35 inches tall (rather than the standard 30") and 2-years-old.  Are you kidding me?  I think that is the probably best news I've ever heard from a product manufacturer.
I had a Chicco Fit2 car seat on my doorstep within a week.  It took about 3 minutes to install.  Problem solved.  I'm thrilled.  Even better, it still fits into the stroller frame I already have from our old infant seat (Chicco Keyfit).
So what's my take on the Chicco Fit2 car seat?
It's beautiful (Italian fabric with leatherette accents and a nice big canopy). And it looks really comfy (that extra-thick foam also helps absorb energy if we ever have a crash).  It's still rounded on the bottom (like the Keyfit), so I can rock it, if my little guy gets drowsy when he's not in the car.  It has an air bubble in the base to show that it's level when installed.  Also, it has a "no rethread" harness—so to adjust the height of the head rest and shoulder straps, I literally just pulled on a little strap and slid it down, while my baby was in there.  It took 3-seconds maybe?  Last, when he turns one, there's a lever I flip on the base that holds the seat in a more vertical position, and voila, we're good to go for another year.  And most importantly, it weighs 11 pounds, has a handle I can loop over my arm, and I can click it out of the base super-easily while he sleeps.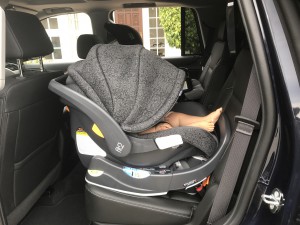 Getting serious for a second (as if baby naps aren't as serious as it gets… ), this new car seat also will mean that a lot of parents will have an easier time keeping their kids rear-facing for longer.  The American Academy of Pediatrics recommends rear-facing until at least 2-years-old for important safety reasons, and this seat means everyone can now do that without having to give up their sanity (see how that comes full circle, back to baby naps). Hooray.
So, about that tough news we received.  31 inches.  Well, you know what that means?  It means we have a healthy, tall baby.  We're are thrilled to hear that.  He's now riding around in a shiny new car seat that he'll be in for another year.  I'd even say it's an upgrade.
And as for car naps (and any hopes of ever making it to a BBQ again)… Our baby fell asleep today, while my daughter was also in the car and you know what happened?  Nothing.  I unclicked him from the base when we got home, brought him inside, and he continued his nice long nap while I played inside with our daughter.
Peace on Earth.  Thank you SO MUCH, Fit2, for saving my entire family from losing our minds.
#Chicco #Fit2 #TurnAfter2 #ThankYouForSavingMySanity #ApocalypseHasBeenPostponed
-          –          -
To purchase a Fit2, please check out: http://amzn.to/2vtoGJt (this is an Amazon affiliate link– it gives me a small commission, which helps me to support this site, at no additional cost to you).
PS: You may recall that the Orbit convertible seat also has a base (it was the only one on the market that did), however the seat itself weighs 22lbs—so that's like 50lbs with the baby in there.  Also, it has no carrying handle, and it's no longer on-the market, plus there were allegations of carcinogenic chemicals in the fabric.