Ever since my daughter, Savannah, outgrew our beloved infant car seat system—so for over a year, now—I've been in stroller limbo. Ewww, stroller limbo.  There's my guilty confession for the day.
When Savannah was an infant, my world of strollers was so easy. I had a Chicco Keyfit car seat, base, and stroller frame ("caddy"). The car seat just snapped into and out of the base that was installed in my car. And, when I wanted to go for a short walk or to take her into a restaurant, the car seat just snapped into a stroller frame, and we were off. When we were done, I could easily fold the (super-light) stroller frame with one hand and toss it back into my trunk. I LOVED that system.
Now that she's two, I understand why they say that most families ends up owning multiple strollers. You need one for exercise—jogging strollers are rugged and comfy, and they have suspension for uneven trails. But they're so heavy you basically injure yourself every time you try to load/unload them from the car, and they're so big, you sometimes can't even walk next to your friends on a casual walk. So, they're not great for everyday use. Then, you need one that's small and lightweight for travel. But they're flimsy, featureless, tiny (so you have to hunch over), and uncomfortable for the kid. Ugh.
So, I found, even though I have both a jogging stroller and travel stroller, I still needed an everyday stroller—for trips to the mall, trips to the zoo, and for casual walks.
After extensive research and demos of a zillion strollers, I've compiled a list of features worth checking out, when stroller shopping, so you can be sure to find a stroller that meets your needs. I ended up picking a Chicco Bravo, and I totally adore it. Here are ten features to check out when you're stroller shopping for an everyday stroller:
Adjustable height handlebars: Adjustable height handlebars are a must-have for me, so my husband and I both can both comfortably push the stroller around, and so our feet don't kick the basket underneath as we walk.
One-hand fold: Moms' hands are already so full—we're constantly holding a child, a diaper bag, shopping bags, and on and on. So, I feel it's critical that an everyday stroller be easily folded with one-hand. But buyer beware, some strollers claim to be one-hand-fold systems, when you really actually need two hands to pull off the whole process (in my opinion). I'd suggest trying the stroller you like in-person or at least reading online reviews, before buying one.
Recline: A stroller that reclines will enable your little one to comfortably fall asleep in there, if you're out and about during nap-time (so critical for day trips). Be sure that the stroller you pick has a comfortable upright position too though—some moms have complained that some strollers are still a bit too reclined to be comfortable for their kids, even in their upright position.
Big Storage Basket: I mean BIG… and easily accessed. You want to be able to fit your diaper bag, a couple of jackets, and whatever else you need in there.
Giant canopy with peek-a-boo window: We've gotta have a sun shade to protect our baby's beautiful delicate skin from the sun, but we still want to be able to peek in to be sure everything's going well. Enough said.
Snack Tray/cup holder: It's awfully nice to have the option of snapping on a snack tray when you're out and about, to hold a sippy cup and a snack for an easily distracted toddler (who otherwise may end up dropping or wearing their snack or drink). An adult cup holder is also very helpful.
Reversible seat: I want the option of facing Savannah toward me so she and I can face each other, if she gets into a mommy mood.
5-Point Harness: While most strollers come with a 5-point harness, some of the lightweight strollers don't. It's too easy for a sudden tantrum or distraction to cause a toddler to wriggle hard. So other than for short trips or travel, this is pretty critical for safety.
Weight: Assuming you're already looking at one-hand-fold strollers, the lighter it is, the easier it will be to unload and load in to the car. However, lighter strollers tend to come with fewer features. I ended up deciding on one of the lighter full-size strollers, because I really wanted adjustable height handlebars, and all the other features above.
All-terrain: Initially, I thought I wanted all-terrain functionality in my everyday stroller, but this means a heavier stroller. If you do hard-core exercise on uneven terrain, you may just end up wanting a separate jogging stroller for all-terrain use, so you can keep your everyday stroller light and maneuverable.
I was thrilled to finally find a stroller (the Chicco Bravo), with all the features I was looking for. It's so nice to stand up straight when walking, to have room for all of my stuff, and to be able to get it in and out of my car without injury.
I'm so happy to be out of the dreaded stroller limbo. I hope this helps you find a stroller you love too!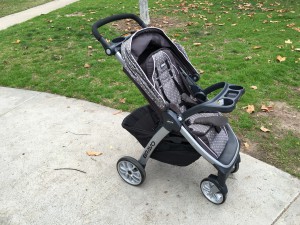 Affiliate links to products featured in this article, in case you're interested in more info:
Chicco Bravo Trio Travel System, Lilla (click the image below for a link to this product on Amazon)

Chicco Keyfit 30 Infant Car Seat and Base (click the image below for a link to this product on Amazon):

Chicco Bravo stroller (click the image below for a link to this product on Amazon)

Chicco Caddy/stroller frame (click the image below for a link to this product on Amazon)

Thank you to Chicco for providing this amazing travel system for some wonderful days in the park and for this review.