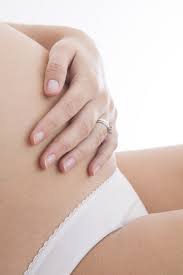 For every four women who have healthy pregnancies, there's one woman quietly suffering the loss of her pregnancy.
I guess we know that—that's why so many women wait to tell anyone they're pregnant. Because, what if you're the one? Who wants to have to tell everyone that news?
So, the losses are quiet. But, it's sad and strange and very real for those families to think about the little life that won't be coming into the world.
When I saw the word "pregnant" at the end of the stick, I could hardly believe it. Whoa! We wanted this.
But, I also kind of dreaded another pregnancy and another child. I didn't really feel ready to care for a newborn baby and chase around our toddler.
Moments later, I heard the garage door opening. My husband was about to walk in.
I'd already bought a onesie for my 18-month-old daughter that said "Big Sister". I raced downstairs and put it on her, to surprise my husband with the news. I set up my cell phone to record his reaction.
He gave me a casual kiss on the way in. I asked if he'd seen our daughter's shirt. He glanced at her and said "yeah". Then, doing a double-take, he asked with eyes wide open, "Seriously?!"
He looked so excited.
His smile made me feel better. But, I accidentally didn't hit record on my cell phone. The moment was lost.
That evening, I went on rant about how I'd skipped highlights the prior month. I was going to look bad, way sooner this pregnancy.
I was a lot less excited about this pregnancy than the last one.
Then I started reading about week five and six of pregnancy. The baby's brain was forming. And, next week, the nose, mouth, ears and heart would form. How incredible. I started to feel connected to our baby.
We eagerly told our daughter she would have a little brother or sister to play with and love. We told her a sibling was the greatest gift we could give her.
Then, I started bleeding. A lot.
After two appointments and some blood work, we confirmed we'd lost the pregnancy.
"Screw it", I decided, "I guess I can have a glass of wine." I drank the whole bottle and had a good cry, thinking about the little life we'd lost.
Did I love that little embryo? Or was I thinking about something stupid like my highlights? Every baby deserves to be loved.
I felt so guilty. I quietly whispered, "I love you", to that little life, before going to sleep.
Then I kind of just moved on. And it was over. So I thought.
The cruel joke happened about two months later, though, when all the newly pregnant women started announcing they had a baby due the same week we would have been due. Why had no one ever warned me about that?
One. A mother who'd been through hell to get pregnant—several rounds of IVF and a pretty big surgery. I couldn't be happier for her. If I had to choose which of us kept our pregnancy, I'd choose her.
Two. A close mom friend. "Oh, my baby would have been born that same week", I blurted out, without thinking. "That would have been fun". I thought I'd told her about my brief pregnancy. Nope. What an asshole I am, dropping that on this sweet, happy, newly-expecting friend. She shared that she'd had three miscarriages. I was genuinely happy for her.
Three. A close friend.
And, four. This is the one that really gets me—a mom who's just always been mean. Now, she was due the same week I was, and all she could do was complain about her pregnancy. She was having a baby, and I wasn't, and her pregnancy was such an inconvenience to her.
That's four. And of course, for every four, there's the one who isn't pregnant anymore. That's me.
But, I'll tell you what. Our OB said we can try again. And boy are we trying (wink).
This doesn't have to be a sad story. It can be the kick in the ass I needed to enjoy my next pregnancy and to happily welcome a new baby.
Thinking back, maybe I needed this slap in the face. Maybe, we need these little reminders to help us appreciate our gifts.
Because, thinking back, I didn't treasure the little life inside of me. I complained about and even somewhat dreaded the journey we were about to take.
Now, I know I want it.
A tidal wave of friends have since announced they're due that week. I mean it's getting to be excessive, but I'm trying to keep it in perspective.
I'm looking forward, instead. I made a list of things I want to do before getting pregnant again and I'm working my way through it. I visited my family, got a massage, had drinks with old friends, and went to an amusement park.
This next time, maybe I'll succeed at recording my husband's reaction, so we can save that moment forever.
This time, I'll feel ready for another little one. This time, I'll embrace our little gift.
Maybe, instead of being the one who lost my pregnancy, I can be the one to get a second chance at appreciating and enjoying it.
If you enjoyed this article and you'd like to see more from Mama Lovejoy, "like" my Facebook page, follow @MamaLovejoy1 on Twitter, Instagram or Tumblr, or check out www.mamalovejoy.com.