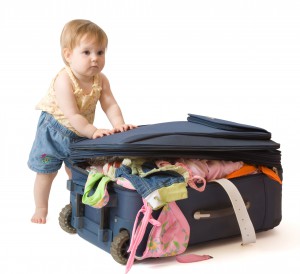 When Savannah was 2-months-old, my husband invited me along on his business trip—a six-hour drive from our home. Traveling with the new baby sounded terrifying. What if she started crying while we were on the road? How would I nurse her? Would it even be worth it? I'd just be in the room feeding her, changing her and putting her down for naps, all-the-time, like when we were at home.
But, that trip was one of the best things that could have happened for us.
It turned out his conference was at a resort! I finally decided to be brave and venture out from full-time indoor baby care. I had a poolside Pina Colada, while nursing my daughter in my bikini. We explored the resort, met my big sis from my sorority for sushi, and went to dinners my husband. It was incredible.
Travel was intimidating but so worth it. Here are some tips for making travel easier:
Sleep
Give yourself space. AirBNB or a friend's house may offer a second room for your family without costing more than a hotel room. This gives you flexibility with sleep arrangements and makes moving around easier when the baby's sleeping.
Bring your monitor. If you have a sound or video monitor, bring it, so you can move around the room/house, while the baby sleeps.
Replicate your home sleep space, as much as possible. If your baby is used to white noise at home, bring your white noise machine.
Bring your bassinet, for younger babies. The bassinet is familiar, and it helps to have somewhere to put the baby when moving around in the hotel room.
Let them adjust to their travel crib. For babies used to a crib, who will sleep in a pack n play while traveling, try putting the pack n play in their crib for a couple days, while at home, to let them get used to it. "On our first trip, with a pack n play, our daughter woke up every time she moved because the pack n play crinkled," recalled one mother. "We got a fitted sheet1 for it, on our next trip, and put the whole thing in her crib for a couple days before traveling. She slept through the night five out of the six nights."
Make sleep safer if you bed-share, by reviewing safety and other tips, especially if you don't usually bed-share. If possible, push the bed against the wall or put the mattress onto the floor to improve safety. Or, you can push the hotel crib against the side of the bed to make a bedrail. If those aren't options, a few pillows on the floor may help if your baby falls.
If you're driving…
Fill up your gas tank before your trip. "Fifteen minutes after our son fell asleep in the car, we saw a sign saying '60 miles to next rest stop'", explained one mother, "So, we stopped for gas, and our son woke up. What was supposed to be a two-hour nap was fifteen minutes. The rest of the day was madness."
Time the trip with naptime, change your child's diaper and feed him, before leaving. That way, hopefully you can get a lot of miles under your belt before your little one needs anything.
Keep a bag of toys within reach. You can hand a new toy to your baby, if she starts to fuss. And if you have a bunch of toys handy, you can keep this going for a while.
Play games, while they're awake. For example, name every animal you can think of and make that animal's sound. On one trip, we pretended that a turtle makes the sound, "errrrrrrrrrrrrr, thunk", and grabbed the side of our daughter's car seat with the thunk. She cracked up. We were able to keep her laughing with that turtle sound all the way to the next rest stop.
Flying
Carry on breastmilk or formula. Airlines in the US allow this. Just tell them you have it, and leave a little extra time for them to check it.
Wear your baby right through security. You can baby-wear right through the metal detector.
Bring a car seat and a lightweight stroller. You can just strap it onto your stroller. Some rental car companies offer car seats, but quality is very questionable. We had three different moms recommend the Cosco Senera1, as a cheap, lightweight travel car seat and we found a cheap, light stroller1 we liked.
FAA "strongly urges" parents to secure infants go in a car seat to protect them in case of extreme turbulence.  It's the safest place for kids.  However, realistically, the vast majority of parents carry their kids (<2 years old) for free on their laps, which is allowed, so I'm offering tips for that option as well.
Gate check your stroller and car seat. You can bring your stroller and car seat with you to the gate, and the airline will gate check them there. Many airlines don't count these against your checked bag or your carry-on bag limit. This means you can have them with you until the last minute and they'll be less likely to get damaged on the ride. You'll typically pick them up at the gate when you land (not at baggage claim).
Tell the gate attendant that you're traveling with an infant. If there's an empty seat available, they may put you next to it, to give you both some extra room.
Nurse or offer a bottle on departure and on landing to help ears pop. You can use an inflatable travel My Brest Friend1, if you like a nursing pillow. This also gives the baby somewhere comfortable to lie without you having to hold him. The plane is a giant white noise machine—if you're lucky your little one may sleep through the flight there.
Bring a change of clothes. Something about the pressure seems to make diaper blowouts pretty common.
Travel light. Ha! It really does help though for finding what you need, on the flight. Consider shipping diapers to your destination, in advance, to lighten your load.
Bring activities for the flight. Stickers, or brand new toys can help pass the time. Worst case, you may want to have a video game or app on your phone or iPad.
Happy travels!
1 Here are links to the travel products mentioned in this article, that I've used and liked (these companies are NOT paying me to recommend their products):
          –          –          -
If you enjoyed this article and want to see more from Mama Lovejoy, like my Facebook page, follow @MamaLovejoy1 on Twitter or check out www.mamalovejoy.com.