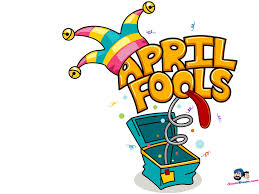 April Fools' Day scares me. I brought it on myself. One year, as a child, I pulled out all the stops—I saran-wrapped the toilets, put sugar in the salt shaker, put hair gel in my Dad's shampoo bottle, reset the clocks in the house to make everyone think we were late for school (I had our carpool buddy in on it). I somehow thought my family would think it was funny.
They didn't. Not even a little bit.
They were livid after the first couple of "jokes". Instead of fessing up to the rest, I chickened out. A few days later, they thought the ham had gone bad, after they sprinkled the sugar on it. Ugh. The "jokes" just wouldn't die. Never again.
And, yeah, the next April Fools', I went into hiding, because I was afraid of reciprocity. So anyway, rather than trying to play some "funny" April Fools' prank on you—Here are five of the best April Fools pranks others have pulled off.
West Jet Kid-free Cabins: This Canadian airline now offers a program called Kargo Kids, enabling them to offer kid-free cabins. Don't worry, they have a plan for families with kids to still be able to fly. The YouTube video is about 1 minute long and worth it. https://www.youtube.com/watch?v=M4SkoJy3D0M
Sam Adams HeliYum: Sam Adams discovered a genius new way to make beer by infusing it with helium. https://www.youtube.com/watch?v=0Tby91aTGF4
Spaghetti trees: In 1957, a British news program aired a segment about the great spaghetti harvest. They'd draped spaghetti noodles over tree branches and filmed girls picking the spaghetti off of the trees. The station was completely bombarded with callers wanting to know how they could grow a spaghetti tree. Even after confessing that it was a prank, the anchors were flooded with calls. As they grew frustrated, they finally started answering by saying, "Just place a sprig of spaghetti in a tin of tomato sauce, and hope for the best."
Interrupted gravity: In 1976, BBC radio announced that Jupiter, Pluto and Earth were about to align, interfering with Earth's gravity. At 9:47AM, the announcer instructed the listeners to "Jump now!" to experience a floating sensation. Moments later, dozens of listeners called the radio station to share their stories about how they'd floated around the room, bumped their heads on the ceiling, or floated out of their chairs.
The Taco Liberty Bell: In 1996, Taco Bell took out a full page ad in six major newspapers stating, "In an effort to help the national debt, Taco Bell is pleased to announce that we have agreed to purchase the Liberty Bell, one of our country's most historic treasures. It will now be called the "Taco Liberty Bell" and will still be accessible to the American public for viewing. While some may find this controversial, we hope our move will prompt other corporations to take similar actions to do their part to reduce the country's debt." Surprise, surprise, people freaked the %@$& out. The response was so massive, that Taco Bell released another press release at noon admitting it was a joke.
Now you've been reminded that pulling off April Fools' pranks makes others mad. And you've heard about a few of the big pranks (and the ensuing uproar). So, yeah, go ahead and get out there and pull some regrettable pranks. *wink*
You can automatically receive Mama Lovejoy articles in your Facebook newsfeed by "liking" the Mama Lovejoy Facebook page.