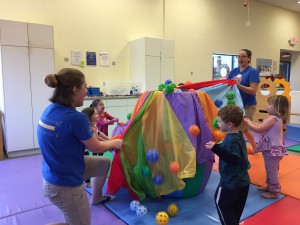 Savannah's third birthday needed to be awesome for her.  A lot of attention had been diverted away from her to our new baby, and she'd been such a good sport about it… she deserved a really fun day that was all about celebrating her. 
Easier said than done…
Between the new baby (complete with breastfeeding all the time and interrupted sleep), chasing Savannah around, and spending most of the prior month with family, I got started on birthday party planning really late (like two weeks before we wanted to have the party… ack!). Even then, I didn't have the energy for a ton of birthday party planning.  I just wanted it to be easy. And awesome. Ha.
While we're at it, I wanted it to be easy once we were there too—ideally, I wanted the kids to have fun stuff to do, so I could socialize with the adults too. This meant the kids would need to be contained and the activities would need to be led by someone else.
If that isn't a tall enough order, Savannah is kind of on the shy and sensitive side.  She doesn't like all adults (men especially… she's a bit sexist).  She doesn't like crowds. And a lot of times, at the preschool playground, she's off to the side painting, while everyone else runs around crazy and climbs on the playground.  So I needed to figure out something she would really like.
Well, I am good at coming up with ridiculously impossible wish lists.
I called around to a few different places, then I found a winner.  It was such a win! 
Gymboree was able to pull off all of it for us—they even had an option for an arts & crafts activity. 
They had a bunch of themes we could pick from.  I read the choices to Savannah and she picked "around the kitchen" as her theme—that seemed fitting since she's constantly telling us her toys are veggies (then she tries to cook them in her play kitchen). 
They did everything for us—we started with free play where the kids could play together on the various indoor playground equipment there, while folks arrived.  Savannah and a friend climbed to the top of the slides together, counting to three, and slid down together, over-and-over.  It was absolutely adorable (and they were contained and entertained so I could easily greet and hang out with the other adults).
Then there were loads of "around the kitchen" activities led by our favorite instructor there (Caylen) that involved climbing, balancing, jumping, music and make believe. Caylen also had the kids picking up bean bags, shaking a parachute and blowing bubbles.  Savannah and the kids seemed to really have fun.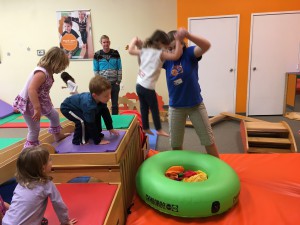 We then switched gears to the arts & crafts project.  They had little stations already set up for all the kids to make "ice cream sundaes", which each had their own cotton balls, glue and supplies.  Savannah made it her mission to empty the entire container of glue into her sundae (but it was OK because each kid had their own container of glue).  One kid almost ate a scoop full of the "chocolate" (which we learned thankfully is non-toxic), but that was it for the drama.  They added sprinkles (glitter) and a little cherry on top.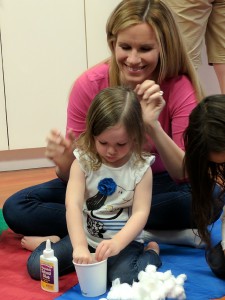 Last but not least… food time.  They provided plates, happy birthday decorations and banners, lighter, cups.  We meant to bring juice containers but accidentally left them at home… thankfully the Gymboree crew had had water and cups to bail us out.  Savannah almost literally dove into the cake face-first for her first bite, but she managed to wait until a piece was cut for her.  She then face-planted into her piece for a great big mouthful of cake… someday we'll work on manners, but today was all about fun.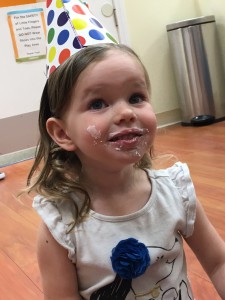 And I think she had loads of fun.  It was perfect.  More importantly—it was perfect for her.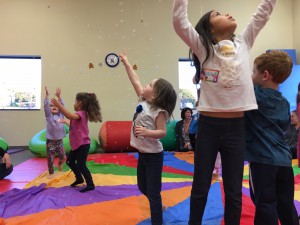 So to the wonderful team at Gymboree—thank you! You made my daughter's much-deserved birthday dreams come true and you even came through with everything on my impossible wish list—you made her day awesome for her and easy for us.  After the party, one of the moms shared with me that her daughter said it was the most fun birthday she'd ever been to!  Yay!
Happy birthday, sweet Savannah!  You've given us unconditional love and you've brightened our lives more than words could ever say. I'm so glad we could give you the fun day you deserved.  We love you to the moon and back.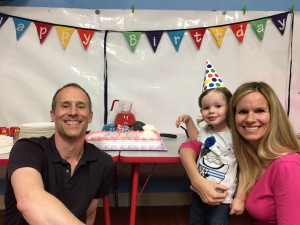 Thanks again to our friends and family who celebrated with us and to Jessica, Caylin and Gymboree in Torrance, CA!