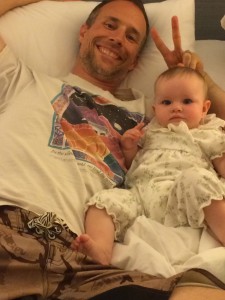 I pitched an article to Pregnancy and Newborn Magazine– and they wrote back and plan to publish it!!  They said it will be published on their blog in June and in the November issue of their magazine.  Whoohoo!
Today also marks the one-month-old birthday of Mama Lovejoy (my website). Thank you dearly to Mama Lovejoy's friends who have liked her Facebook page or followed her on Twitter (@MamaLovejoy1). If you're not one of her friends, she'd love to be friends with you (just "like" her Facebook page).
So far on this short journey, I've been kicked out of one Facebook group for my first article, I'm a New Mom and I Hate Everyone (oops). And, I was rejected for an interview by one pediatrician, who I suspect was nervous about stating his position on controversial topics like bed-sharing, vaccinations, and introducing solids—anyone know a brave pediatrician?  I also was whipped into shape by my awesome writing classmates after an early attempt at a piece on the anti-vaccination trend.  I'd quoted Jenny McCarthy, researched the relevant stats and vaccine ingredients, and included graphs and analysis. My husband said, "Jenny McCarthy's an idiot", and a classmate scrunched up her face and said, "I don't think she's doing you any favors".  And the graphs and stats put the rest of them to sleep (oops, again). Then, one mama pulled me aside and told me she knew a mom whose child had whooping cough and it's a terrible disease—the baby spent over a month in the hospital, kept turning blue and stopped breathing several times, then had other challenges when he finally got out of the hospital.  I'd completely missed the point with my article.
But now, I've interviewed that mama. And I interviewed a Doctor or Physical Therapy specializing in women's health.  And a dentist.  And a bunch of other amazing mamas.  Also, Mama Lovejoy did something that mattered and contributed to the world—she connected me with a family who has 3-week-old preemie twins born by surrogate, so I could give them my frozen breast milk. So, despite a few bumps in the road, I'm thrilled about Mama Lovejoy's 150 Facebook and Twitter friends and one article that amazingly reached over 8500 people (Crib Notes on Sleep Training).
So thank you, thank you, thank you to Mama Lovejoy's dear friends who have shared her joys and tears– and especially to those who have shared her page and posts (and to those who will)!  Thank you to those who have let me interview them and/or quote them. Also, a special giant thanks to my husband, Josh, who's super-supportive, and to my technical whiz brother for making this site exist.  Love and appreciate you all!