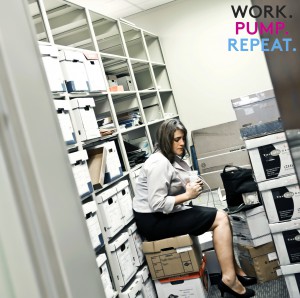 "Oh, thanks, yeah…I would stop breastfeeding, but then what would my husband put in his coffee?"
Just bank that line, mamas, because if you breastfeed your baby past a year (or, for some people six months–it's really quite random), someone at work is going to ask you why you're STILL breastfeeding the baby.
And just in case you think you're alone – because getting milk from a robot baby really is one of the loneliest jobs there is–please be reminded that you're NOT alone. Joining you, in this weird sisterhood of pumping-at-work mamas?
A police officer: "I pumped in the car at a site where I was helping to recover the skeleton of a murder victim from a creek bed."
A teacher: "I've been walked in on twice, despite displaying do-not-disturb signs. Both were male. One backed away slowly. The other stayed to chat."
A communications director: "I'm limited to thirty-minute pumping sessions, so I often have to leave in the middle of an hour-long meeting and call in for the remainder."
A doctor: "I had to pump while answering pages, talking on the phone, or eating lunch. Once, I forgot my bottles and had to pump into urine collection cups. I swear they were sterile."
This job–one of three jobs you'll have if you're working, along with parenting a new baby and making milk all day–is hard. But there are a few life hacks that will make it more manageable. Start with these:
Build up a stash of milk before you go back to work. Check out my detailed post on how, and how much, here.
Know your rights (or lack thereof). The U.S. has a confusing patchwork of laws around pumping at work, and not everyone is covered.
Figure out how to hack normal clothes to be work- and pump-friendly. Button-down shirts and dresses are great. Cowl necks work. Camisoles under other tops work great – pull the top shirt up and the camisole down. You don't have to splurge on bespoke pumping fashion.
Over-pack your pump bag at first. Start with this list – and winnow down over time, as you figure out what works for you.
Write a proactive pumping plan to pitch to your higher-ups. They'll be impressed if you solve most of the problems on your own, rather than coming to them all Oliver Twist-like, saying, "Please sir, can I have a room to pump in?" No lactation room? Talk to the office manager and see if there's a little-used closet you could install a lock in. Find out how much the lock would cost, and ask where you can get a chair to stick in there. Put all of that in your plan – they'll be wowed that you went to the trouble.
Learn hands-on pumping from the breastfeeding pros. It is exactly like going to second base with yourself while you pump, but it can dramatically improve your milk output.
Build a super-awkward support network. As awful as it will be, go talk to the people you work with every day. You don't need to spend an hour on it, but just tell them: "This is really awkward. When I get back from leave, I'm going to still be making milk for my baby, which involves me disappearing with this weird machine a few times a day. I don't need anything from you per se, but it would just be nice to know that I have some friends I can lean on as I figure this out." The best co-workers also make up code words with you, so when a meeting runs long, they can be the ones to ask for a break, so you don't always have to.
Remember, remember, remember: Your worth as a mother is not measured in ounces. Attaching a machine to your naked breasts while you're at work is not all that easy. Not while being exhausted AND trying to do your job and possibly dealing with terrible co-workers and/or management. Breastfeeding doesn't have to be all or nothing–lots of working mothers combination feed–and breastfeeding (or not) doesn't define your success as a mother. You are awesome – period. Distance yourself from those who would tell you otherwise. And know that we working, pumping mamas have your back, no matter how it turns out.
Author bio: Jessica Shortall is the author of Work. Pump. Repeat: The New Mom's Guide to Breastfeeding and Going Back to Work (Abrams, 2015), which is available everywhere you can buy books. Buy links are at www.workpumprepeat.com. She is also a vocal advocate for paid parental leave. You can find her on facebook, twitter, and Instagram.

If you'd like to see more from Mama Lovejoy, you can follow this blog by liking Mama Lovejoy's Facebook page. You can also subscribe to the Mama Lovejoy YouTube channel or you can find me @MamaLovejoy1 on Twitter, Instagram, Periscope or Tumblr.