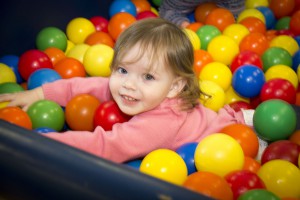 We've been talking to Savannah about her birthday party for a couple of weeks—she's sometimes shy and we wanted her to be prepped to have a blast.
That's part of the reason we picked MyGym as our party venue. We've done weekly classes there for about a year, so she's familiar with the space and people—she loves all of it. I mean, she's been singing the MyGym welcome song for weeks (although her version is just, "Hi, hi").
The morning of her birthday she woke up on the wrong side of bed. She cried for the first half hour of the day. Then she had a river of snot on her face for the rest of the morning. We were a little worried about what that would mean.
But after a bath, a rinse in the sink, and a nap (which was so hard because she was so excited for her party), she was happy and miraculously snot-free.
Rayna and Drea have been our MyGym class instructors for the past year (at the Toluca Lake location) and both of them were there, along with Kyle who's an instructor in our brand new class time. Savannah adores Rayna and Drea, so it was perfect that both were there. Poor Kyle though—she's only met him once and Savannah's generally suspicious of men she doesn't know, so he didn't get as warm of a greeting.
It was AMAZING. They had their usual indoor playground stuff out, but they also had activity-after-activity—a maze, puppet show (my chance to make a break for the pizza), scavenger hunt, roller coaster, beach ball game, zip-line, and bubbles. Rayna is just so good with kids—she's so sweet, but also hilarious. And, Mymo, the MyGym monkey, made an appearance a couple of times. Savannah and the kids were obsessed with him.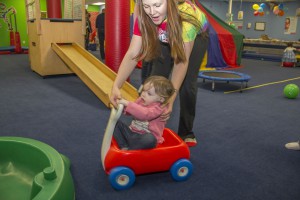 They also did some special stuff for our little birthday girl. Mymo towed her around on a rocking horse on a sled, while everyone wished her happy birthday. She surprisingly let us bedazzle her in a feather boa and tiara.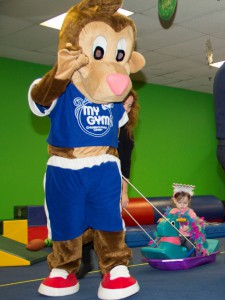 And she swung in a swing (her favorite MyGym activity) while everyone sang Happy Birthday and while she blew out the candles on the cake.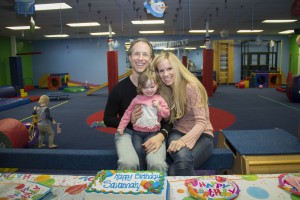 They also humored us when Savannah asked for stamps on her hands and tummy, half way through the party, and they gave her a bonus ride on the zip-line.
It was amazing not to have to worry about planning, set up, keeping the party moving or clean-up. We just got to enjoy watching Savannah play… and surprisingly, she was having enough fun even without me that I got to spend some time with our guests.
It was so special to have our closest parent friends all together—I didn't want it to end! Our guests seemed to have lots of fun and it was super-easy on us.
We left thrilled that Savannah and our guests had so much fun. We sent everyone off with a book—Mr. Brown Can Moo, Can You: Dr. Seuss's Book of Wonderful Noises—as a party favor. The MyGym team had already packed up our gifts into a bag to make them easy to transport and that was it.
Yay, birthday party success! Happy birthday, baby girl!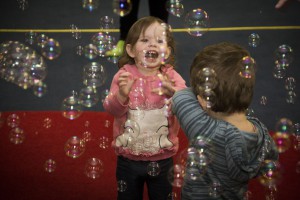 Thank you so much to Rayna, Drea, Kyle and Amy for giving us an amazing party at MyGym.  Thanks also to my awesome brother, Rob, for taking about a thousand pictures (literally!).

If you'd like to see more from Mama Lovejoy, you can follow my blog by liking my Facebook page or check out www.mamalovejoy.com. You can also find @Mamalovejoy1 on Twitter, Instagram, Periscope and Tumblr.