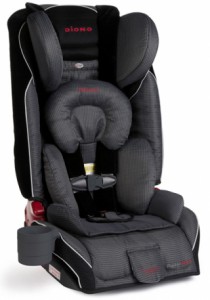 Hi friends! There's a lot of pressure on us parents to invest in a really high quality (and expensive) car seat—our kids spend countless hours in there, which means it will impact our ability to function happily in the world. And, if an accident happens, you want to know they'll be safe. So, whether you're due to upgrade to a convertible seat, or you could use a car seat for your significant other's car, or you need a seat that travels well, or you have friends or family members with a new baby… wouldn't you love to win a high quality car seat for free?
We're giving away a Diono Radian RXT Convertible car seat (in the color of your choice). Happy holidays!
The general consensus on the Diono Radian RXT is that people love the low profile (for easy loading/unloading) and especially love the carrying straps that attach to it (like a backpack) for traveling. It receives very high customer ratings on comfort and quality, and parents love that it's narrow enough to fit three across in many cars. It comes with a cup holder, infant insert, memory foam, protective head wings, and the cover is machine washable. And, most importantly, you can see from the Amazon reviews and from other online safety reviews many examples of cases where someone totaled their car, but the kids were kept totally safe in these seats.
So let's get to the good stuff—how to win one.
One day my husband pointed out that I say the weirdest stuff throughout the day, as I'm hanging out with my daughter. He'll be sitting on the couch, and he'll hear, "I'm not sure I want you to trust fall onto my face". Or, "I'd love to read that story to you. I'm currently under a 60lbs collie". Or, "Oh my gosh, you managed to open that and now you're eating my chapstick… Huh." So, I started tweeting the weirdness I caught myself saying.
I'd love to hear funny kid-inspired things that other parents or caregivers catch themselves saying.
So to enter, you can Tweet, Instagram, and/or Facebook your weird kid-inspired comment, with #SayWhat #CarSeatGiveaway and @MamaLovejoy1 in the text of your response (for Facebook, please post responses under my giveaway blog post on the Mama Lovejoy Facebook page). I'll retweet some of my favorites.
The giveaway is open to residents of the United States and Canada (over 18 and not working for Diono or Mama Lovejoy). You're welcome to post however many kid-inspired comments you want to post, however, you'll receive one entry per user ID, per social media platform.
The winner will be chosen at random on December 15, 2015 and will be announced via Mama Lovejoy's Facebook, Instagram and Twitter pages and on www.MamaLovejoy.com on 12/16/2015 (so be sure to follow Mama Lovejoy so you'll know if you win)! Good luck!
Thanks so much again for being a part of the Mama Lovejoy community! I wish you and your family happy holidays!
Click here for official terms and conditions

If you'd like to see more from Mama Lovejoy, you can follow my blog by "liking" my Facebook page. You can follow @MamaLovejoy1 on Twitter, Instagram or Tumblr, check out www.mamalovejoy.com.