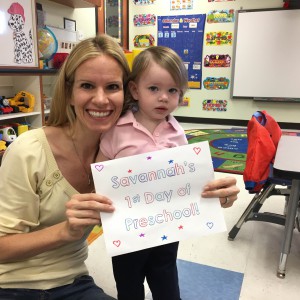 I dropped my daughter, Savannah, off at preschool for her very first day of school ever! Preschool is just a bunch of coloring and playing, so getting started with preschool was just easy and fun, right?  Ha. In Los Angeles, many preschools have one-year competitive wait lists. It's intense! And, when you do finally drop your kid off, you're trusting the teachers, aids and administration to care for your loved one without you there. You're trusting the school to keep your child happy, to build excitement about learning, to promote social and emotional skills that they'll rely on for life, and to prepare them for Kindergarten. Finding the right preschool can feel like a big deal!
I initially thought we'd send Savannah to the preschool on our street—it's so convenient and I'd heard good things about it. But, when we visited, the kids were sitting the entire time I was there. They only had a tiny playground, and the teachers were a bit snappy. I asked about the curriculum, and the teacher didn't speak in clear, well-articulated sentences (not to mention she didn't even answer the question). When I walked out, the kids were (still sitting) writing their names over-and-over on paper. These are 2-year-olds we're talking about—I felt like they should be up and moving, some! The head of the school let me know that they had an open house in a week, which would fill up the school for the next year. No pressure!!
Thankfully, I broadened my search to schools within 15 minutes of our home (looking at over a dozen schools), and found one we love. The kids were standing and dancing every few minutes. Every 20 minutes they rotated through subjects like imaginative play, math & science, music, art, and dance. The teachers were well-credentialed and super-nice (and they could form coherent sentences… phew).  According to the parents we met, the kids finished preschool able to read, counting to infinity, and knowing what a rhombus and trapezoid are.
As I drove Savannah to school on the first day, I was excited. I explained to her that it's OK to be nervous, that these would be new friends and this would kick off 20 years of school for her—that's a big deal. But it's a wonderful school, with terrific teachers, and it will be a lot of fun. Having done my homework (no pun intended), I knew I really believed it. Then I walked away, leaving her in someone else's arms. I felt a twang of sadness as I let go of our baby days, but mostly I was proud and excited. And, neither of us cried—I think we both knew this was going to be great!
Here are some questions you can ask as you explore preschools, so that hopefully on your first day, you can feel confident, excited and proud too!
What schedules do you offer?  Whether you only want a couple of half days each week or you need a full-day and after-care, make sure they have a schedule that works for you.
What's the student:teacher ratio in the class? What's the ratio outside at the playground?
What are the teachers' degrees/credentials?
What's the turnover rate for the teachers? A high turnover rate may indicate many teachers are dissatisfied with the school.
What is style of learning at this school? Examples are Waldorf, Reggio Emilia, Co-ops, Montessori, Developmental, and Academic.
Can you walk me through the curriculum?
Do kids have an opportunity for active play?
In what ways can parents be involved? How involved are they?
Do you have activities outside of school with the parents, so parents can get to know each other and get to know the teachers?  If so, can I come to one, to meet some of the parents before finalizing my decision to enroll?
How do naps work?
How do meals/snacks work?
Does my child need to be potty-trained? If no, is there an extra cost if they're not potty-trained and do you help with potty-training?
How do you handle discipline? How do you notify parents if something happens?  They should notify you if your child was the one who mis-behaved or if another child did something to them.
What do you do if a child bites another child? Be sure they have a plan that works for you. Some schools will expel a child if this happens after a single warning; others may drive you batty by hardly doing anything.
What would you do if my child got a small cut?
What would you do if you found a child on the ground, non-responsive? Try to politely probe to get them to really explain what they would do (saying they're CPR-certified is great, but doesn't answer the question). They should have a plan that involves CPR, calling 911, calling the parents, and making sure the rest of the kids are safe at the same time.
Who at the school is CPR-certified? Some schools do CPR training with everyone, even the cleaning crews—this is ideal.
What percentage of children here are fully vaccinated?
How do you keep kids safe while they're at school?
How do you handle security at the school (i.e.: Can anyone just walk in or are there gates, cameras, etc)?
Have you ever been cited for violations?
How and how often do you give progress reports to parents?
Do you let parents know the upcoming week's curriculum so we can reinforce learning at home?
What are your policies for signing out a child?
What skills do kids have when they complete preschool?
Do the kids watch TV? How much?
What is the cost for the program?
Are there additional costs for any classes (some schools charge extra for some classes like music or gym)? If we don't do the classes that cost extra, what would my child do instead?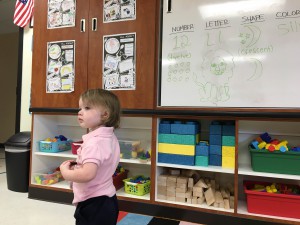 If you enjoyed this article and you'd like to see more from Mama Lovejoy, you can "like" my Facebook page. You can follow @MamaLovejoy1 on Twitter, Instagram or Tumblr, check out www.mamalovejoy.com, or please share Mama Lovejoy with your friends. Thanks!!