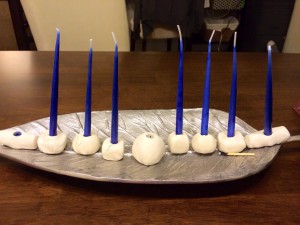 The holiday season is here! And, it can mean more than just loads of gifts (and spending). Want to create memorable experiences that can bring your family closer and create lifelong fond memories, without spending a fortune? Here are some fun Hanukkah ideas, inspired by a rockin' family:
Make a Menorah: Ilana and her family just moved and their Menorah is in storage—what a great excuse to do a craft with their son. They made a Menorah out of clay. Although Ilana describes it as looking Flinstone-esque, it's memorable, adorable and she admits that she'll be laughing about it until next year.
Enjoy the Traditions: They ate latkes (potato pancakes) and gave gifts on the first night.
Sing in Multiple Languages: They sing "O Hanukkah", in both English and Yiddish.
Rock out: They wrap up the night by watching some Hanukkah music videos and dancing around the living room. They like Miracle by Maccabeats and the Jon Stewart/Stephen Cobert song about Hanukkah.
Ilana had hoped for one more new Hanukkah tradition. "I was hoping that my double-lanolized wool diaper covers would finally be dry and we might have our first no-diaper-change-and-leak-free-night for a Hanukkah miracle," she says, "but that didn't happen."  Maybe next year.
Wishing you a happy and memorable holiday season!
Thank you to "Ilana" (moms' names are changed on this site) and her fabulous family for these fun ideas!  If you want to automatically receive posts from Mama Lovejoy through your Facebook newsfeed, "like" the MamaLovejoy Facebook page, at www.facebook.com/mamalovejoy1.  Some people have asked if they can share posts from this site– absolutely and thank you!!