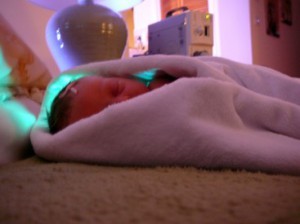 It's the eve of my baby girl's first birthday. She's happy and healthy and I'm so proud. It wasn't what I expected, but it's been the best year of my life. I can't help but reflect on where I was a year ago.
When I went to the hospital, I expected to have a baby in a few hours. I thought I'd soon feel her little head resting on my chest—I'd look at her face for the first time, snuggle with her, and then nurse her.
But that's not how it happened.
One year ago today, I was 15 hours into labor, and I had 16 hours left to go. We were deciding if I should have a c-section, because my water had broken long ago and there was meconium in the fluid.
Once Faith was (finally) born, she just slept. And slept. And slept. I tried breastfeeding but she was just out. After 5 hours of sleeping, the nurses tried to wake her, but she wasn't having it. After 7 hours, I was terrified and praying for her health. The doctor told me she had jaundice and a hematoma, but why wasn't she waking up? Even with as tired as I was, I couldn't take my eyes off of her.
She slept for 11 hours straight, then finally woke up. Then, a new question raced through my mind, "Am I going to be able to breastfeed?" I was supposed to nurse at least every three hours to establish my supply. I'd heard how beneficial breast milk was for a baby's health. I wanted everything for my precious baby.
The hospital staff checked her and gave us good news. She was ready to leave the hospital. I gave a sigh of relief, and we packed up to leave.
Then the pediatrician came in.
"Her bilirubin numbers are getting worse", he told us, "We need to keep her here longer, and we're going to put her in a biliblanket". My heart sank.
Holding her in the biliblanket was like trying to snuggle a vacuum with a hose attachment. She was in a machine, with a tube attached to the wall. She hated being in there.
I tried to breastfeed her, but it didn't work—it was uncomfortable for both of us.
The nurses explained her jaundice may improve if she ate and went to the bathroom. My milk wasn't in yet anyway, so they gave our tiny glowing baby a bottle of formula. They used a fast flow nipple, and she sucked down the formula in an instant. As I watched her drinking formula, I felt myself shudder. Would she ever nurse?
After another 24 hours, the pediatrician came back in. We were hopeful. "Her jaundice numbers have gone up," He explained. "It's best if we put her under the lights in the NICU", he said slowly.
I could barely swallow, as I choked back tears. What does this mean?
While she was in the NICU, we could visit, but we couldn't hold her. All we could do was offer her a bottle of formula, every three hours. So, we did.
In the meantime, I started pumping with a hospital grade pump, every 3 hours. We all got through another day, and they finally released her. She was healthy and safe.
And I could finally nurse her. I hoped.
I tried nursing, and our latch was OK. But, the lactation consultant weighed her before and after I fed her, and she hadn't gotten any milk.
So I kept pumping.
After 2-3 weeks, we weren't having any success breastfeeding. I'd been to the lactation consultant over-and-over. We'd tried a breast shield, and there wasn't even any milk in the shield. Our next step was to try a syringe catheter that would be taped to my chest. It was just so much work. It was already so much work pumping and bottle-feeding her.
So we stopped. We didn't go back to the lactation consultant and stopped trying to breastfeed.
I was OK with pumping. My husband fed her, while I pumped. We were doing OK.
Faith was colicky and needed to be held and comforted all of the time, or she cried. The only times she didn't fuss were when she was eating or sleeping. It was really demanding, but we were making it work.
Then, he went back to work.
I needed to figure out how to do it all. So, I sat her up against a boppy, next to me and tried giving her a bottle there. It worked.
Once I figured out how to feed her next to me in the boppy, while I pumped, I was a rockstar.
I gave her a bottle with my left hand, and I pumped using a hands-free pumping bra. This kept my right hand free so I could eat, at the same time. I repeated this every three hours.
I gave her cold milk, so that if she didn't finish a bottle, I could just put it back in the fridge. I kept using the hospital grade pump and I never missed a pump. My milk supply kept increasing. One day, I pumped over 50 ounces.
After about 2 months, she smiled at me for the first time. The colic passed. I read stories to her, danced with her while she laughed, and rocked her for hours. I watched her roll over for the first time, crawl, sit, and say "mama".
I kept pumping until she was 10-months-old. But, then, I had over five months of frozen milk in the fridge. I was so sad to pack up my pump. It had gotten me through a lot. Now, I'm just incredibly proud that I was able to make it.
Tonight, I'm watching her as she stands up, holding onto the couch, about to turn one. She looks back at me with her giant blue eyes. She smiles and lets go of the couch, then takes a couple of wobbly steps toward me. Watching her melts my heart. I love this little person so much.
Where did a year go? I kind of want to do it all again.
Thank you to this strong and honest mama who shared her story with me.  And happy birthday to little "Faith" (names are changed).  If you want to receive Mama Lovejoy articles automatically through your Facebook feed you can, by liking the Mama Lovejoy Facebook page.