style="display:inline-block;width:728px;height:90px"
data-ad-client="ca-pub-2902699368607751"
data-ad-slot="6337356427">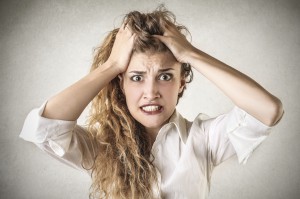 I threw my cup of water at my husband and yelled, "I want a divooorce."
What led up to this wasn't years of a difficult marriage. Nor was it some awful discovery, like an affair. We'd just had a new baby hours earlier. And, it wasn't that he wasn't doing his part—he was as hands-on as possible. There just are so many emotions in the beginning of motherhood that people don't talk about.
People expect that when you have a new baby, it's all smiles, tears of joy, and maybe some sleeplessness. Once you have the baby though, you have a lot of other feelings, like terror, exhaustion, guilt, anger, and loneliness. If you tell anyone you feel anything other than joy, though, they just give you this look. People make you feel like you're not allowed to think or feel the way you do.
I was recovering from labor and an emergency c-section, and the hospital staff had told me to pump after I nursed, every time—I was sleepless, exhausted, in pain, and just defeated. Then on top of that, when I asked my husband for a pillow, he answered, "just a minute", without even looking up from his cell phone. I felt helpless and dismissed, and furious about it. That's why I'd yelled that I wanted a divorce. And I meant it. Sort of. We'd been through three rounds of IVF, so he had experience with me being hormonal.
I never wanted to hurt my baby or questioned whether I loved her, but looking back I definitely had the baby blues. I think all women go through some degree of the baby blues. I felt so alone, though, like I was the only one not elated about every little thing, in the first days. I even caught myself gagging a little bit at my baby's smell. It made me wonder if I was a bad mom.
Then, one day, in Mommy and Me, another mom, Sally, shared that she felt it was really hard in the beginning. Sally told us that her sister's mother-in-law had asked her, in this soft, happy voice, what her biggest surprise was, as a new mother. It was clear she was waiting for Sally to sweetly respond, "I just never knew I could love someone so much".
But, Sally just looked her straight in the eyes and responded, "It's fucking hard". Sally described the shock on her mother-in-law's face, and elaborated, "I think she wanted a Hallmark answer and I just didn't have that".
I knew then that I was OK. What I felt was normal and I wasn't alone. I'll even dare to say, that what my husband said in the hospital really wasn't all that bad.
Thank goodness my husband didn't let me divorce him.


style="display:inline-block;width:320px;height:100px"
data-ad-client="ca-pub-2902699368607751"
data-ad-slot="8122997225">

This is the story of a brave, loving mom, who was one of my first interviews.  Thank you to this mom and to "Sally" (all mom names are changed) for their honesty and support!  If you want to receive Mama Lovejoy articles automatically through your Facebook feed you can, by liking the Mama Lovejoy Facebook page.


style="display:inline-block;width:320px;height:100px"
data-ad-client="ca-pub-2902699368607751"
data-ad-slot="8122997225">