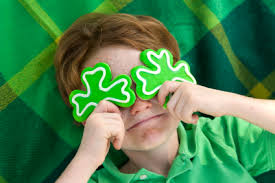 When I reached out to a group of moms for St. Patrick's Day celebration ideas, they led me to two revelations. First, it's "St. Paddy's", not "St. Patty's". Why? I have no clue. Wouldn't you think Patty would be short for Patrick? Wrong! The mom who told me lives in Ireland and called me out. Second, a mom let me know that our days of drinking green beer are now over. Deep breath. Wow.  I have fond memories of green beer.
So what are moms up to this St. Paddy's (see I used the d's there not t's)?
Let's start with this mom living in Ireland…
Today is a national holiday, there. So, she and her husband have the day off of work, and their village is going all out. They start by pinning on a bunch of real three-leaved (not four-leaved) shamrocks to their clothes and dressing in their Sunday finest for mass at St. Patrick's & St. Brigid's Church. Then, at 1PM, the streets shut down for a themed parade down Main Street. This year's theme is "Childhood Games". All the local businesses, even the daycares, march in the parade. Her daycare is dressing as Cowboys and Indians. Then they're all going back for a huge family dinner.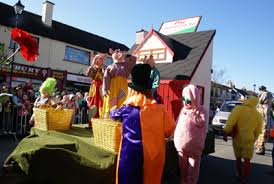 As for the moms here, it's a bit more modest. Here's what some moms are up to.
Dressing the babies in crazy-cute green gear—everything from leprechaun hats to lucky charms t-shirts.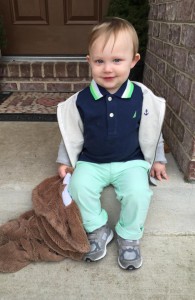 Putting on whatever green ridiculousity we can dig up. OK that's me. This is my embarrassed confession. I have nothing green! The best I could do was a size 2T green dress for my 15-month-old daughter.  Her toes barely peak out from underneath.  In fairness, that dress was a gift from a previous coworker though, and I love it.  And the only thing green I could find for myself was a green maternity shirt.  Sigh.  Lookin' hot.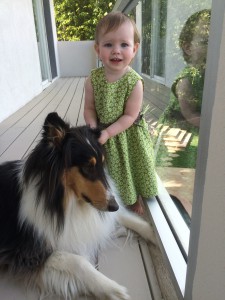 Pinching people who aren't wearing green. I'd forgotten about this lovely tradition, but suddenly my green maternity shirt is sounding a lot better.
Giving cute St. Paddy's Day themed gifts to older kids or students (of teacher moms), like a gift bag with a rainbow, cloud and coins.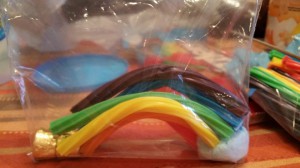 Celebrating birthdays of loved ones who happen to be today. Happy birthday to them!
Buying or making St. Paddy's cookies or cupcakes. Some lucky little ones are getting to share these with mom.
Watching or participating in Irish dancing. And, of course, watching the drunks try to dance a jig.
Making leprechaun traps. Allegedly, if you catch one, the leprechaun turns the kids' eggs green.
Alright, so going back to the St. Paddy's vs. St. Patty's thing. I try to avoid posting hearsay, even on something that's just for fun, like this. So I did look into it. Paddy is derived from the Irish Pádraig—which is where those d's come from. And, Patty is short for Patricia. We don't want to be calling today's Saint, "Patricia", now do we?
And, yes, as for the green beer thing—I think the point was, we're not going to the bar tonight to drink green beer (unless you have a sitter and a wild streak… if you do, send pics!). But, we can still have a normal non-green beer at home, with dinner, to celebrate. So, enjoy!  And next year, go to Ireland, because, St. Paddy's sounds like a blast over there!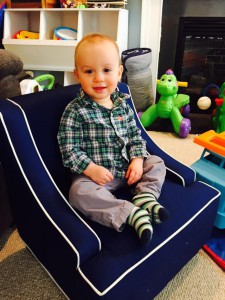 Thanks to the moms who contributed to this!  If you enjoyed this article and want to see more from Mama Lovejoy, you can automatically receive articles in your Facebook newsfeed by "liking" the Mama Lovejoy Facebook page.