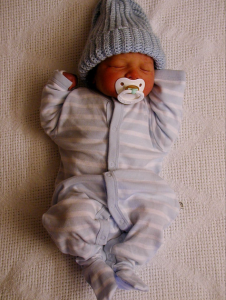 During your first days with a newborn—it's survival. You may be thrilled that your little one is finally here, but you may also be exhausted from trying to breastfeed, trying to keep up with your little one's needs, and getting just a few short stretches of sleep every night.
Sleep is definitely an obsession for many new parents. And for good reason—it's important for your and your baby's health and mental well-being and it's fairly dysfunctional for a while.
So, what can you do in a baby's first three months to help your baby (and you) sleep in longer stretches at night?
Establish a good night routine. This signals to your baby that it's time to sleep. You probably already put on pajamas, change his diaper, feed him, and close the curtains. You can also include reading him a story, give a baby massage, sing a song, or give him a bath. At first, it's a good idea to pick out a story and a song that you only do right before bed as a signal that this is night time not nap time. Your nap routine can be a miniature version of your good night routine, with different songs and books.
Create a good sleep environment. You can play some white noise to drown out unwanted noise and to help your baby sleep. Blackout curtains will also help your baby to sleep. Many parents swear by swaddling, which is safe until your baby can roll from front-to-back.
Set a consistent bedtime. Many books and moms suggest a bedtime between 7PM and 8:30PM. Later can cause a baby to be over-tired and anxious, causing them to sleep less. Consider your schedule after maternity leave—some working moms really want to see their baby for a little while both before and after work. Assume your baby will sleep about ten-and-a-half hours at night, for their first year (obviously this varies).
Set up a safe, comfortable sleep space. The American Academy of Pediatrics (AAP) indicates that the safest place for a new baby to sleep is in your room. But, they recommend against having the baby in bed with you, to reduce the risk of Sudden Infant Death Syndrome (SIDS). If you intend to do long-term bed-sharing, regardless, read up on ways to make it safer. Otherwise, if your baby consistently sleeps in a bassinet or crib from the beginning, sleep will likely be much easier later. If your baby doesn't sleep well in a crib, many parents have better luck with a bassinet on an incline like a Rock-n-Play, or a crib with a folded towel under two crib legs to create an incline. Also for safety reasons, AAP recommends he sleeps on his back and recommends against any sheets, toys, bumpers, or other objects in the crib with the baby.
Don't cheat on naps. We've all been there—pacing back-and-forth, until the baby finally falls asleep. Then, the moment you put her down… "Waaaah". So you start again. And again. It's worth it though. Even though they're tough, naps are important for your baby's health. And as tempting as it is to let her just sleep in a swing or on you, they can become dependent on that. "Henry still needs to be held for all of his naps", shared Beth, the mother of a 15-month-old. And, while your baby sleeping on you feels so sweet and snuggly in the beginning, your baby's naps are your breaks. Try to give yourself this time to shower, nap, unwind, and maintain your sanity!
Follow a nap schedule. Some of the most helpful advice my mom friends and I took from Mommy & Me was to figure out our babies' awake schedule. Everyone goes through cycles of sleepiness and wakefulness throughout the day. Your baby probably has about an hour-and-a-half awake cycle. So, you want to try to put him down just before the end of his awake cycle, when he's most tired. This means, if he wakes up at 7AM, try starting your nap routine just before 8:30, for the easiest time putting him down. Play around to see exactly what time interval works best for your child. Be aware that waiting too long can backfire by leaving you with an over-tired baby who doesn't fall asleep as easily. Most babies do well with four naps per day, until about 6-month-old.
Put your baby down drowsy but awake. Rather than waiting until your baby is out-cold to put her in her crib, try putting her down a little awake. This teaches her to fall asleep on her own. It will also prevent her feeling alarmed or disoriented when she wakes up somewhere different than where she went to sleep. Even if you put her down 90% asleep so she just open her eyes for an instant before re-closing them—this still helps!
Baby your baby. Research and studies show that in the first six months, if a parent promptly picks up their baby when he cries, he'll actually cry less at one-year-old. Responsiveness to your baby's needs also helps him to develop a secure, organized attachment to you, which the world of Psychology considers determining of social and emotional well-being, later. So, consider delaying cry-it-out sleep training.
Nights are for sleeping. If your baby naps for more than two-and-a-half hours during the day, try gently awakening him by stopping any sleep aids (rocking, white noise, closed curtains). This helps to ensure that your baby's long stretch of sleep happens at night. Also, if your baby takes a long nap, try to be sure he still gets all of his meals for the day, so he doesn't wake up to make up for missed meals at night. During the day, be sure your baby gets lots of natural light, which helps to awaken the brain. For night wake-ups, keep lights off or dim and try to avoid engaging or playing with him. Most babies don't need their diaper changed after every pee and will eventually sleep through the night in one diaper. So, if you're sure it's just pee and the diaper isn't already full, you may be able to just put your baby right back to sleep.
Avoid a flat spot! Try to be sure your baby spends an equal amount of time on each side of his head, to avoid a flat spot. A flat spot can affect jaw and ear alignment and facial features—many babies end up wearing a (very expensive) helmet for several months to correct this. One trick to help with this is to place his head on opposite sides of the crib or bassinet each night, so he'll turn his head to opposite sides to face you.
The last step—get some sleep. All this new baby stuff is hard work. Hopefully these tips will help you set up good patterns in the first three months for good sleep long-term.
If you enjoyed this article and want to see more from Mama Lovejoy, you can automatically receive articles in your Facebook newsfeed by "liking" the Mama Lovejoy Facebook page.