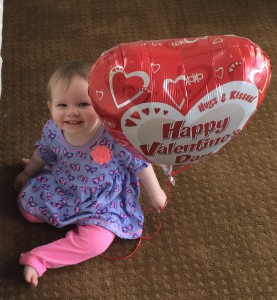 I open my eyes, with a start. What time is it? Oh shoot, is the monitor off? Is the baby awake and waiting for me? I glance toward the monitor, but it's not there. In its place is a box of chocolates and a card that says, "I have Savannah with me. Go ahead and sleep in—I'll be back around 9AM with breakfast for the family. Happy Valentine's Day. I love you."
Ha! Wishful thinking.
The reality? Well, last year, I got a good morning kiss. My husband explained that he didn't get flowers or really do anything. That was fine—we had a 2-month-old baby. Well, that was fine until around 11AM, when he wouldn't even hold the baby for a minute, so I could clean up the breakfast I'd made and go to the bathroom. At that point, I said, "Get out of here and come back with flowers or chocolates or a card that says, 'I'm taking Savannah for two hours in the morning so you can get a break.'" He eventually came back with some fine-here-they-are flowers. Romantic.
Valentine's Day is definitely a holiday met with mixed emotions. I reached out to find out what other moms have planned (or wish they had planned) for Valentine's Day, and it's no surprise that there are many shades of Valentine's Day in the works:
The romantic date night out: One couple, Courtney and her husband made an appointment for a couple's massage, followed by a special "dinner in the dark" at a local bistro. Then, Courtney can't wait to surprise him with a photo book of photos from a secret boudoir photo shoot she did for him.
The romantic date night in: Several moms are planning a romantic dinner in, as soon as the littles go to sleep. On the menu? Surf and turf!
The family outing: Nicole plans to take her boys and husband to the Louisville Slugger Museum, where they'll tour the bat factory and take home a mini Louisville slugger bat.
The at-home family activity: Shelly shared that she bakes a cake or makes cupcakes every year, and lets the kids add the sprinkles. Even the baby gets to help with the sprinkles, this year. Sprinkles everywhere!
The rain-check Valentine's Day: Tara's husband works a night shift, so she's planning on making him a nice breakfast. "What I wish I was doing is checking into a hotel, getting a massage and taking a warm bath," Tara dreams, "and then sleeping through the night."
The joint gift: Kari's husband used to give her flowers for Valentine's Day, but last year she told him not to worry it. They bought themselves a massager from Brookstone, instead. "You know you are getting older," Kari shares, "when you get your spouse a massager for Valentine's Day that you can use in front of the parents." This year, they wanted to go to the zoo, but they're all sick. They decided to treat themselves to new landscaping though as a special Valentine's gift. "I told Ed that getting the landscaping redone was flowers enough for me," Kari says.
Special deliveries: Becca plans to start by leaving a sticky heart on the bathroom mirror, listing "fifty reasons I love you". In the middle will be an envelope, stating, "And finally, the best for last". The envelope contains a pic of their three kids. Then, she plans to have a bouquet of lottery tickets delivered to his work, with a message, saying, "I'm really lucky to have you. Hope you have a great day. If one of these cards is a winner, bring me home a steak". Then, she will accidentally leave the chicken downstairs. When he goes to get it, he'll find a printed picture on top of the freezer that says, "You really float my boat", surrounded by Hershey kisses shaped like a heart. And in the freezer, he'll find root beer, straws, ice cream and a note that says, "bring me upstairs".
Something cute for the baby: Emily doesn't have a big date planned, but she bought her son, Will, a really cute diaper and shirt set.
Something fun for the kid: I bought Savannah a $2 helium balloon at pharmacy that has her rolling in laughter, while the balloon pommels me in the face. Over and over. Forever. Because I'm never going to be able to wrestle it away. But there will be lots of good laughs and a happy kid.
The rekindling: Nelly and her husband have been really struggling lately. "It came to a head last weekend, and we realized we weren't making each other a priority," Nelly explained, "It was the 'ah ha' moment that reminded us to try harder in our relationship." So she's putting together a year of first dates in an envelope. They're cheap and cheerful, and they're a commitment to make more time for each other this year. Valentine's Day will be their "first date", which will be game night.
Then, as I was pouring through ideas and planning out which one's I'd try to steal and use myself, one mom's plans really struck me. "I am having a party with people from my widow's grief group," explained Laura, the now-single mother of five children, who lost her husband four years ago, to an asthma attack. "Anyone who is single is welcome to come chill at my house."
Laura's sweet but chilling plans reminded me that even the good morning kiss I got last year was a blessing. Even if I didn't wake up to that dreamy note promising a restful morning and breakfast-in-bed, that good morning kiss was a celebration itself.
"What I would give for just one last day with him and the kids," Laura says, "just a 'normal' day laying around the house." It's taken a long time to get to where she is now, but she's found a silver lining. "This year, widow friends and I are celebrating friendship and the journey of life", Laura says.
Whether you're celebrating with a single good morning kiss, a series of cute "I love you" gestures, or you don't have a significant other with you at all this year, I hope you're also celebrating friendships and the journey of life.
Wishing all of you love, happiness, special friendships, new beginnings, or the perfect normal day, this Valentine's Day.
Thank you to these moms for sharing their plans, ideas and lives.  The moms are real, but moms' names are changed.  If you enjoyed this article and want to see more from Mama Lovejoy, you can automatically receive articles in your Facebook newsfeed by "liking" the Mama Lovejoy Facebook page.