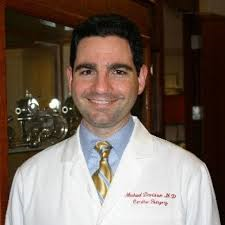 When someone tells you that becoming a doctor takes 7 years of college, it's a lie.
Doctors typically go through more like 11 to 14 years of training after high school, leaving them with a cool $200,000 of debt. During their residency, they typically work over 80 hours per week, with endless all-nighters. You have to work really, really hard to earn the privilege of saving lives. You have to devote your life to it.
So, why would someone hunt down and shoot a person who has devoted their life to helping and saving others?
Yesterday morning (Tues, January 20), a gunman entered Brigham and Women's hospital, asking for Dr. Michael Davidson (44), by name. The shooter, Stephen Pasceri (55) found Dr. Davidson outside of an exam room and shot him twice. He then turned the gun on himself. Neither of them survived.
Dr. Davidson was the Director of Endovascular Cardiac Surgery. He was survived by his wife, who's 7-months-pregnant, and three young children—ages 9, 7, and 2-and-a-half years old.
Pasceri's sister told The Boston Herald that Dr. Davidson had operated on their mother, who passed away in November.
"Dr. Davidson was a wonderful and inspiring cardiac surgeon who devoted his career to saving lives and improving the quality of life of every patient he cared for," Brigham and Women's hospital said in a statement. "It is truly devastating that his own life was taken in this horrible manner."
I used to work closely with some of the cardiology staff at Brigham and Women's—they were absolutely the crème of the crop—graduates of the best colleges, leaders in their industry, and faculty at top universities, like Harvard. And they were caring and helpful. This hits home.
All I can offer are condolences and prayers. And this to anyone who reads this—please thank a doctor this week.
When I heard this news, last night, I actually had two plates of baked goodies sitting in my kitchen that I'd put together to thank a physician. Dr. Robert Gall (Director of Neonatology at Providence St. Joseph's Hospital in Burbank and neonatologist at Glendale Memorial Hospital and Providence Holy Cross in Mission Hills) spent over an hour letting me interview him for my blog and book. I was honored to drop off the goodies to the NICU staff today as a thank you for Dr. Gall's time and for the NICU staff's work in saving babies.
Why did Dr. Gall help me? Who the heck am I? I can't pay him. I really believe that he's another extremely bright and caring person who's dedicated his life to helping others.
So, in a moment when someone did something so horrible to a doctor, I was glad that I could at least be thanking one.
Will you please join me in celebrating these amazing people who work so hard to save lives? It's true that everything can't go perfectly, every time. But as Dr. Gall shared, with tears in his eyes, when the worst things happen and a family has to make the hardest decision, "I still cry every time."
It's devastating that Dr. Davidson lost his life. It's terrible that his pregnant wife and three kids lost "Dad". And it's awful that a person who has worked so hard to help people received two fatal gunshot wounds, in his last moments, instead of appreciation and love.
So, please. Thank a doctor this week.
If you want to receive Mama Lovejoy articles automatically through your Facebook feed, you can, by liking the Mama Lovejoy Facebook page.