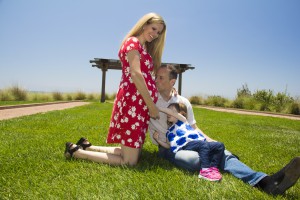 I can't believe I've waited until now to let myself really start getting excited about having a baby—I'm already in third trimester.  I only just joined an online group for expecting moms, and I'm only just publicly announcing my pregnancy.  I swear, we've really, really wanted this baby.  Babies bring such joy to the world—believe me, I know—I also have a 2.5-year-old.
It's just that this is my fourth pregnancy.  We lost two pregnancies in between kiddos.  If you've ever experienced a loss you probably get it.  Or if one day you do, maybe my story will help you.
I've been pretty open about our losses.  I was just so grateful to the handful of moms who were candid about their miscarriages before we faced ours—they let me know I wasn't alone and I had friends I could talk to.
We told our daughter about our pregnancy, the first time.  We told her she was getting a sibling, and that a sibling is the best gift in the world.  Then in an instant the pregnancy was gone.
And when we had our next pregnancy, everything seemed good for the first few weeks.  The pregnancy felt like it would stick… until it didn't.  My parents were in town for Thanksgiving, when I had my second miscarriage, and I was able to drink wine and have a good cry with them.  The tough times in life can be really rough, but it's so special to have loved ones to cry with.  And when I finally opened up publicly about our losses, one of my best friends called crying to share her love and support.  It filled my heart to see all the love and support we had in our lives.
So, you can probably imagine, when we finally got pregnant for fourth time (this time), it was a totally different experience than when I was pregnant with my daughter.  Here's how it's different when a rainbow baby is on the way:
It's so exciting… After a couple of losses, I've had a slap in the face that's helped me see the bigger picture. With our first pregnancy after my daughter, I wasn't sure if I felt ready for another child… I wasn't sure how I'd balance a baby and toddler, and I was almost bummed or mad about being pregnant.  Then we lost the pregnancy and I felt guilty beyond words for having ever felt that way.  So now, even when I'm nauseous or nervous or whatever, I put a hand on my belly—I'm so grateful to be having this baby and we already love it.  I'll say those words out loud to the baby.
But scary. We waited until after first trimester and a boatload of tests before telling our daughter we were pregnant—we didn't want to have to un-tell her.  Again.  Until then, we used language like, "If we have a baby" and "We want a baby".  And I didn't reach out to tell my closest friends about the pregnancy until well into second trimester—even then the message was so guarded, letting them know we weren't telling many people yet.  I'm sure they were expecting me to say I was just a few weeks along and they were probably hurt to learn we hadn't shared our news with them sooner.  If only they understood that we didn't really announce the pregnancy, buy anything, plan anything, or even talk about names until late in second trimester.  And I've waited until third trimester to join a fun online group of expecting moms—I just wasn't ready to gush over bump pictures and nursery decorations until we were out of the "danger zone".  I've known moms who lost pregnancies at 16 weeks, as well as moms who delivered micro-preemies at 22 and 23 weeks.  So it's taken a really long time to feel safe enough to start celebrating and planning.
It's more clinical and more challenging. We tracked exactly when we expected ovulation, so I could start taking progesterone as soon as I might be pregnant.  Then I had to take progesterone supplements three times per day through first trimester (those aren't just little pills you swallow, you know… ). I was under strict orders not to lift more than 15 pounds, which included my toddler (ha!).  And, I went from super-nauseous in first trimester to super-tired in second.  Meanwhile, my abdominal muscles are starting to try to rip apart and my hip basically dislocates when I sit wrong.  Try tackling all that while chasing around and keeping a 2-year-old entertained!
You let go of control.  Seriously, we'll be thrilled with a healthy boy or a girl.  Yeah, that's clichéd but it's true.  So we're not going to find out which we're having until the baby arrives!  And, honestly, this little one—boy or girl—is going to hang out in the same pink and grey swing and the same little car seat as our daughter had, either way.  By now, with my daughter, I had the nursery decorated, clothes ordered, and a name picked out… but this time we're having fun guessing and wondering instead (and we still haven't done a thing to prepare… we need to get on that).
You get to have a rainbow baby.  There's so much hope and anxiety and love and anticipation in a rainbow baby… getting to have a child after you weren't sure you ever would… After you hoped and prayed, then thought you were on your way, but lost it.  You have babies in heaven—you remember and honor them.  And, when you hold your rainbow baby, you hold him or her extra-close.  We hit some bumps on our path, but we also got to spend a little extra time cherishing our loved ones and realizing what a miracle a baby really is.  Hopefully soon, our daughter will finally get her sibling and we'll finally have our rainbow baby.
Wherever your journey has taken you, I hope you'll take a moment to hold your babies extra-close.  Our paths may be bumpy, but babies really do bring such joy into the world.